Story Sharing is a small group activity (up to and including 8 persons) whose purpose is to engage its members through story based activities, grounded in familiar themes such as:- 'The Beach', 'Working in the Kitchen/ Shed', 'Pets and Animals', etc.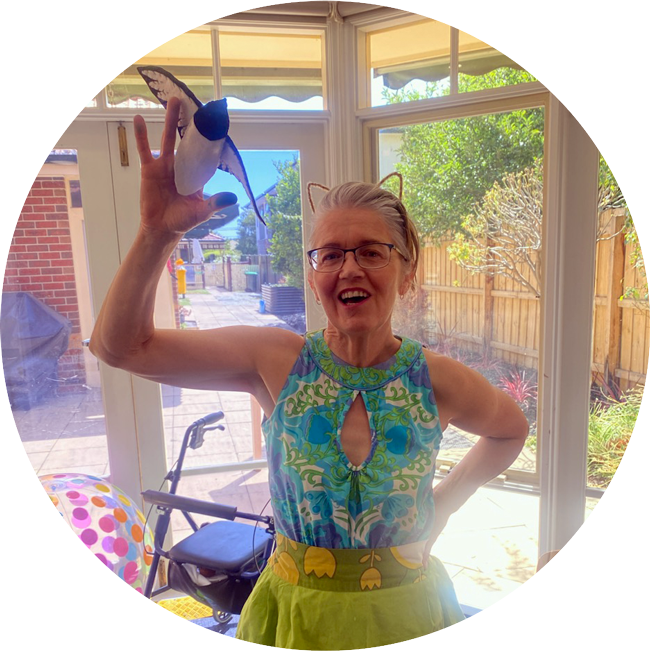 The aim of Story Sharing is to encourage the positive sense of belonging to a small group of people who are working together in a safe environment. Story Sharing groups may help to boost social confidence and reduce feelings of isolation.
Together, we imagine, reminisce and create stories in a supportive environment. There is no concept of anything being right or wrong, and each person and their contribution to the group is accepted, respected and valued. One to one assistance is available to everyone, should they choose or require it.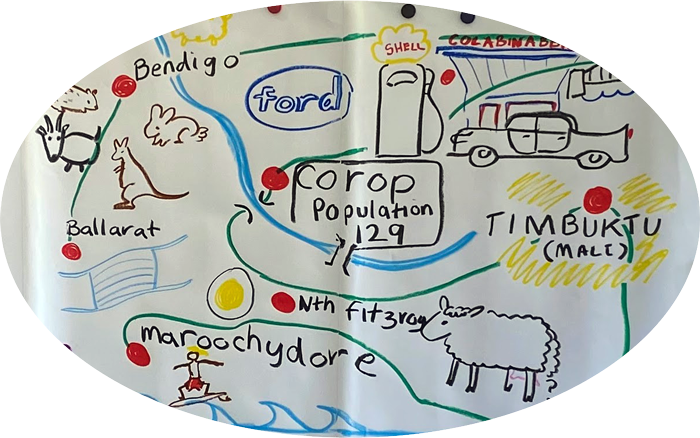 During the session I make a large colourful drawing in real time, in response to the reminiscences and comments of participants. I use open ended questions to inspire creative and thoughtful responses, however, participants need not have strong verbal skills in order to participate. Inclusion in a small, supportive social group can be a rewarding human experience in itself.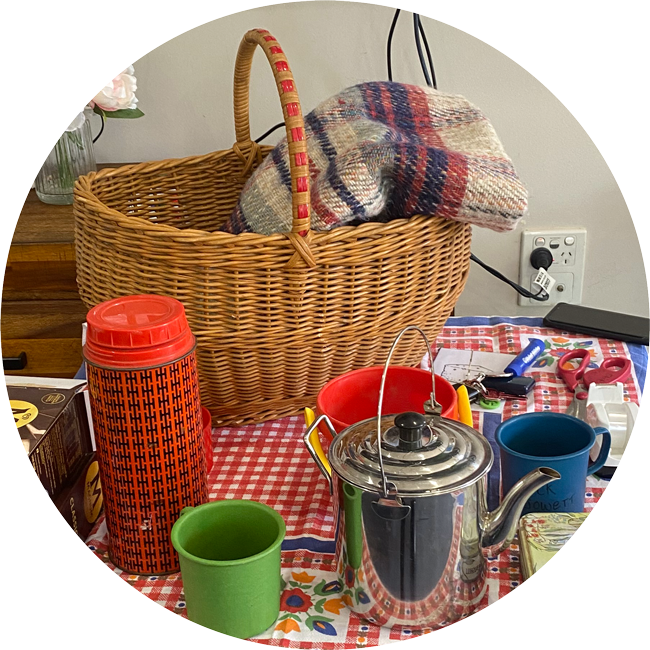 Sensory stimuli promote engagement and reminiscence during Story Sharing. I bring objects for participants to hold and look at. I use subject specific images and create playlists of music and sounds related to the theme. My puppets are always popular, their personality, movement and antics delight everyone.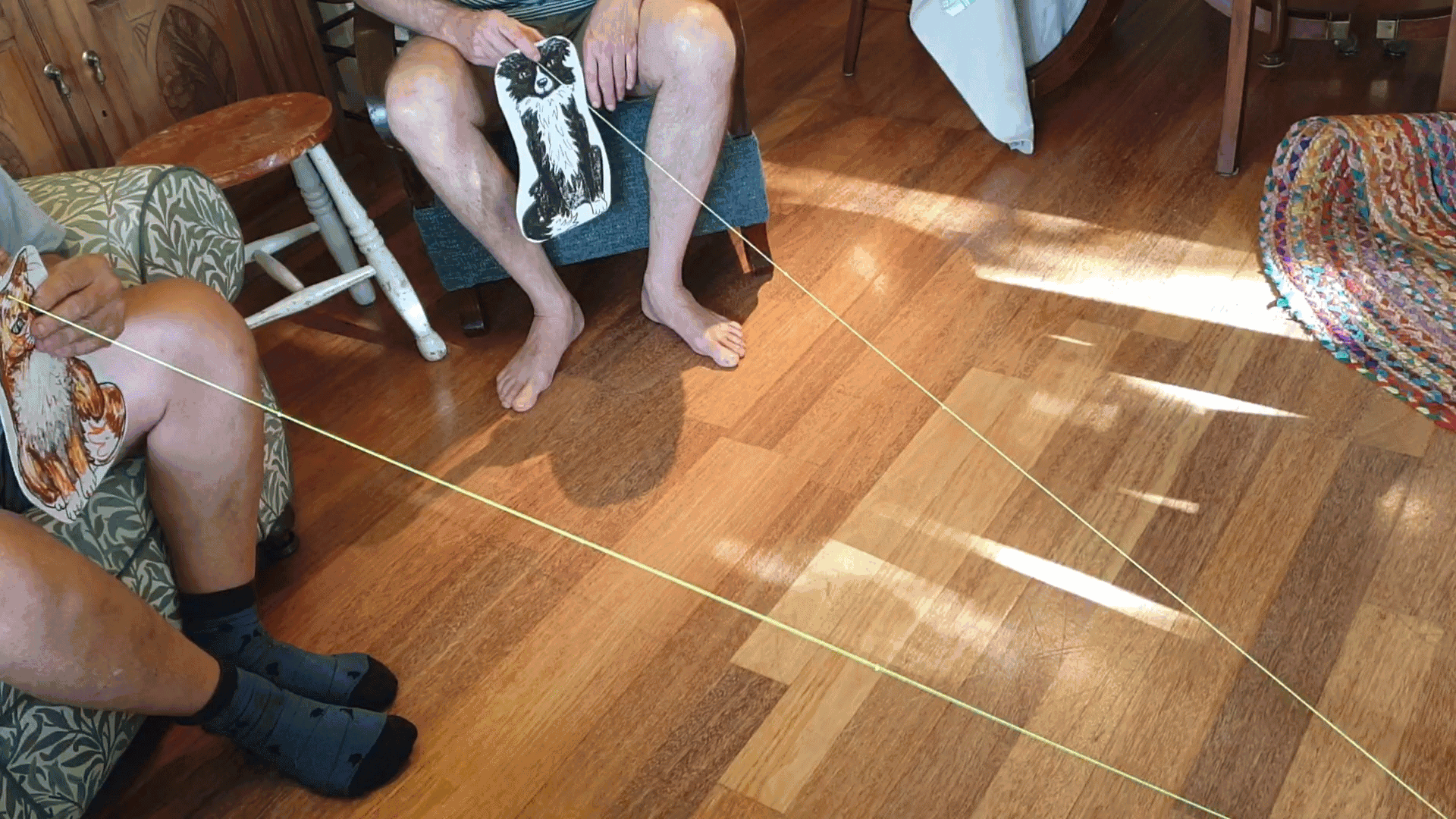 Specially designed activities and games give participants the opportunity to practise and use their procedural memory skills. For example – folding, sorting, throwing and catching, winding, stacking, matching, spreading etc, and also manipulating simple implements. All of these activities facilitate the added benefit of gentle physical activity.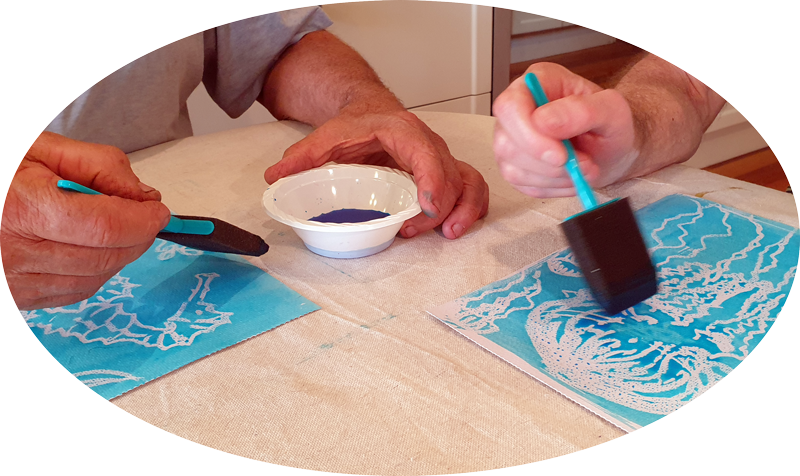 A popular activity is 'wax resist' painting, where brightly coloured paint, spread over a seemingly empty sheet of paper causes an image to 'magically' and satisfyingly 'appear'. Assistance and support with all activities is available to everyone as they need or prefer.
For participants whose first language is not English, I can prepare relevant words from their world language to speak with them . Speaking words from an individual's language is a powerful way to connect meaningfully with them. I have had some wonderful exchanges, where the other person teaches me new words and how to properly pronounce them.
It is helpful if you can share some background information with me about your residents. Such information helps me to tailor the session more individually to them.
To properly facilitate the level of one to one activity and ensure the safety and support of all participants during the session, it is necessary to have one of your staff work with me and your residents during Story Sharing.